This shop has been compensated by Collective Bias, Inc. and its advertiser. All opinions are mine alone. #LoveTheseCleanPaws #CollectiveBias
DIY Cardboard Cat Condo
We recently adopted our first pet, an 11-month old kitten that our daughter named Sheena. She has lived her entire life on the streets, but we are super proud of how fast she is becoming comfortable in our home.
She's learned to use her litter box in just a matter of days and has already claimed her own spot on our sofa.
To make her feel more at home, the kids decided that we should build her a special cat house that she can call her own, including a place for her litter box, a play area and a bed where she relax and oversee the entire house.
Special thanks to Fresh Step® Clean Paws™ Triple Action Scented Litter for sponsoring this post and giving us the opportunity to share this awesome project with you! We love the new Fresh Step® Clean Paws™ formula because it eliminates odors and is low dust and low tracking for a cleaner home. Which makes it super easy for us to adjust to having our first pet too.
If you haven't tried it yet, you definitely should. And now's the perfect time to grab a box, since Target has a special Cartwheel offer available from April 1-7.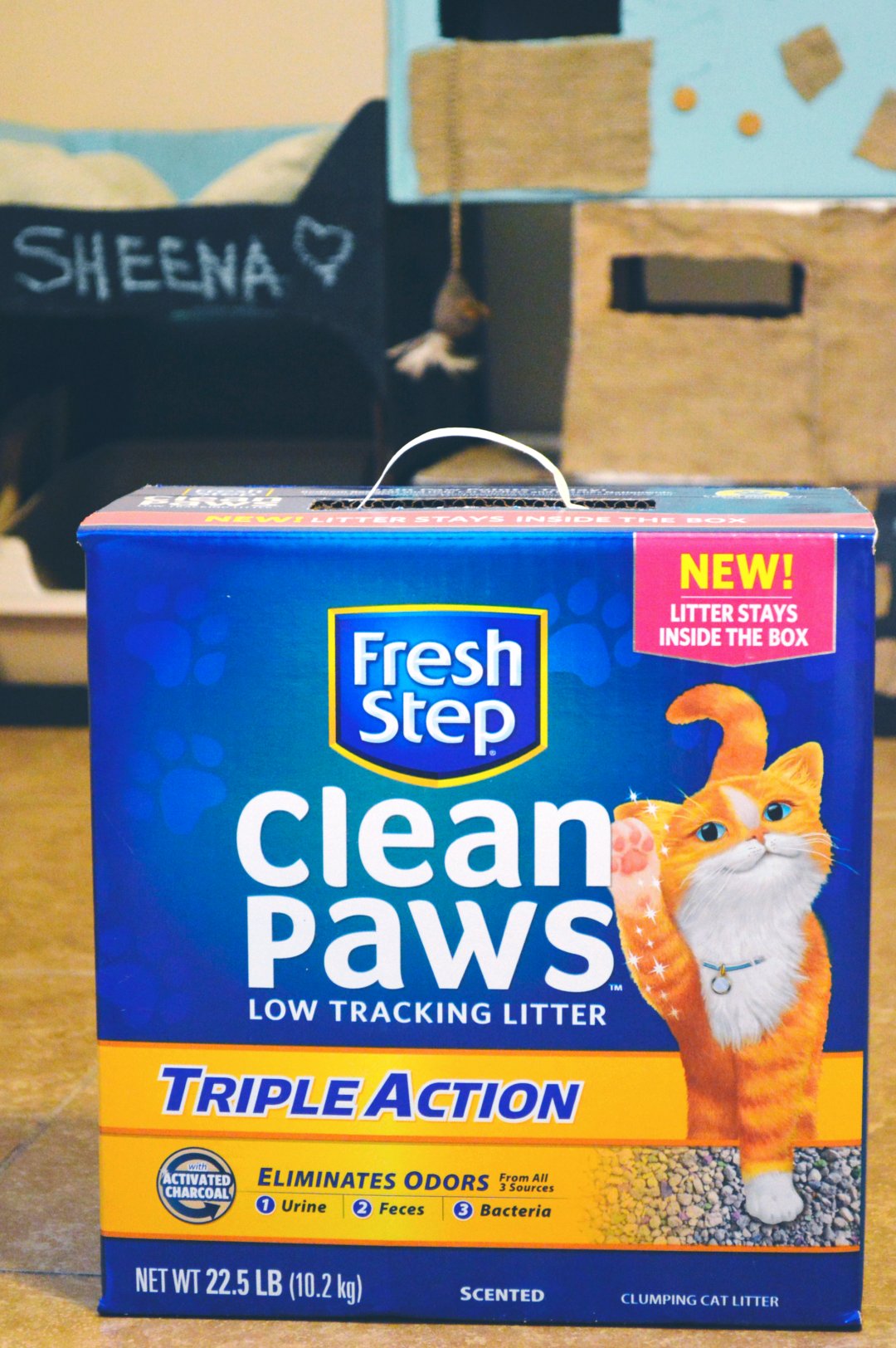 I got all of our supplies at Target, with the exception of the burlap sacks.
Ordering from Target.com was easy, and once our items were ready to go, I sent hubby to go pick them up. Plus, he brought home some free boxes from Target…win!
How to Make a DIY Cardboard Cat Condo
Sheena's new kitty condo came out absolutely gorgeous! With a little paint, hot glue, tape and a few decorations, we were able to create a space that was 100% all her own. Are you ready to create your own DIY Cardboard Cat Condo?
Here's what you'll need to recreate our project at home.
Project Supplies:
● 4 Cardboard boxes (large and medium sizes)
● 1 12oz. can of white primer spray paint
● 1 12oz. can of satin finish spray paint (color of your choice)
● 1 12oz. can of black chalkboard spray paint
● 2 Burlap sacks
● Mini hot glue gun
● 1 pkg. of mini hot glue sticks
● Duct tape
● White glue
● Sidewalk chalk
● Any other decorations you want to add
Before you get started, you'll want to begin by sketching out your ideas for your cardboard cat house. Here's a look at the original design I sketched, which I ended up changing a little once I got started.
To start, I selected a larger sized box that would make the perfect enclosed area for Sheena's litter box and still have enough room on top to accommodate a little area for her bed. I also found a long, narrow box to use for the base of the play area, and two medium boxes that could be used to create a maze-like fun house where she could play.
I used the flaps of the largest box to fold over and create a resting area for her bed. Then I cut holes in each box for the doors and windows.
I also cut out spaces inside the boxes where Sheena would be able to crawl through and get from the floor level, up to her bed. This gave her an extra place to explore and made her custom house even more fun and exciting.
I drew lines on the boxes to line them up and used a square cut out of cardboard to draw and then cut each hole. Once it's painted over, you won't even see the lines, so feel free to make as many marks as you want.
Next up is painting. For this project, I decided to use spray paint. I like the clean finish you get with spray paint, and it's so much faster than using a brush. Plus, it dries quickly, so there's no worry of dirt, cat hair or other debris ruining the paint job.
We painted the boxes with about 2-3 event coats on each side. The only sides we didn't paint were the bottoms, since we planned to hot glue them together once dried.
All dry! Look how much nicer it looks with a fresh coat of paint!
Next up, we need to hot glue these boxes together to form our kitty condo. I tried hot gluing a few different ways, and I found that the best way to put heavy cardboard boxes together is to make a series of large dots of glue. I used a pea to lima bean sized drop and placed them about 2-3 inches apart. I used more than half a bag of hot glue sticks (about 15 of the mini hot glue sticks), so make sure you have enough on hand before you get started.
Once that was done, I started on decorating our DIY Cardboard Cat Condo with some cork board stickers, burlap and chalk. Here's a look at how I glued on the burlap pieces.
I decided to cover one whole side of a box to give her more area to use as a scratching post. I also put down a strip of burlap inside her little nook area and also used some smaller pieces on the other boxes. I think it turned out great!
I also attached another piece of burlap on top of the blue box in order to give her an extra spot where she could climb, scratch and relax if she wanted. I secured this piece with a generous zig zag of white glue.
When Sheena finally got a look at her new cat house and play area, she seemed to love it right away. Once the kids let her out of her crate, she went right to her litter box, which we filled up with a fresh batch of Fresh Step® Clean Paws™ cat litter. She recognized it immediately and knew that this was her special little home.
It felt so good to give Sheena her own place in our home, where she could relax, play and have access to her litter, food and everything else she could need.
As a cat who's lived most of her life outdoors, it's been some adjustment to get her to love being inside just as much. We've had to litter train her, teach her to stay out of the blinds and calm her when she hears other cats meowing outside, but in just a short time, we can already see that she's so much happier here with us than she's ever been as a stray.
The kids are always giving her tons of love and making her feel at home, whether it's by cuddling her before bed or helping us to give her a space to call her own.
And they absolutely love that they can visit Sheena in her own "room" and, of course, Sheena loves it too!
Look how cute she looks in her new bed! I just can't with this girl. She's such a great cat and we're so glad to have added her to our little familia!
Thanks again to Fresh Step® Clean Paws™ for helping us to create this adorable cat condo and give Sheena this super special milestone. We're definitely a Fresh Step® Clean Paws™ Litter family!
If you're looking for a way to help your outdoor cat adjust to life indoors, check out Fresh Step® Clean Paws™ on social media via the links down below.
Facebook: https://www.facebook.com/freshstep/
Youtube: https://www.youtube.com/user/freshstep/
Twitter: https://twitter.com/FreshStep/
Instagram: https://www.instagram.com/freshstep/
© 2018 The Clorox Company.